This collection of my poems was put together in November 2012 as a Christmas gift for a few family and friends. It was published and printed at my expense by Microfilm Digital Print in Christchurch with a small print run of forty copies.
Most of these poems have already appeared in my blog. The two major sets are The Joys and Tears of Love and Passion (contained in blogs 22, 40 and 51) and Adrift on Poetry (blog 53). A few more recent poems are included at the end of the Adrift on Poetry section.
The poems in The Joys and Tears of Love and Passion span many years and have been organised thematically rather than chronologically. The three themes are:
3. Reconciliation and Renewal
1
In the Tarot cards the devil represents blind impulsiveness and passion and obsession, especially sexual.
Contents
I thought I knew my heart well
Keepsake of our first love
I carry you around in my head
Warming my heart at every beat
Intoxicated by the imprint of you
Memories of your smell, your touch
The contours of your body, textures of your skin
The softness of your kisses
The beauty of your breast contoured to my hand
And I am impatient to lie with you again
Run my fingers through your hair
And, most precious of all,
To see your blue eyes sparkle with love.
Your toothbrush lies quietly in my bathroom
A promise of your return.
long lunches replete with talk
carved close to the bone of life
we drink a precarious joy
waking in the last dream of spring
I hold the scales and weigh the world
a watchful dawn comes early to rouse me
jealous of my glowing morning dreams
for the world weighs light and airy
full of a strong-winged butterfly
breathing mountain freedoms
delicate hands carry a shrine to me
a dark flame and a slow burning fire
delightful to adoring eyes
my dream vision is steady
not acquisitive not afraid
what bridge the present passes to the future I know not
but thank my butterfly dawn dream
for promises of summer sun
How could I not
How could I not appreciate
as the one that comes wrapped
in those fearful treasured words
To occupy a quiet corner of your heart
(so glad, so glad, so glad)
full of an awkward unexpressed joy
In spite of all my protestations
my remonstrations with myself
to acknowledge the truth of what I feel
Tenderness, affection, fondness
to block out the three that tell
and cling to a controllable sanity
still crazy after all these years
That the best times of my life
Illusions that would shatter
In the bleak light of day
Are more real than real to me
With you dream time is now
Away from you a hollowed fraud
The disengaged round of daily trivia
To be sleep-walked through
For the magic moments with you
So strongly lit in my senses
Create as good in my imagination
And my dreams but poor shadows of it.
I
thought I knew my heart well
I thought I knew my heart well
In all its little foolishnesses
but what a surprise it had in store
for you could not come to me
vulnerable and confused as we both are
there is tranquillity and joy
a haven for night sea swimmers
as the sun of our love lies on me
shadows and doubts fall away
and the treacherous beauties of life
a bittersweet intoxication
precious hours, days, a whole weekend
snatched from the incoming tide of consequence
bearing a kaleidoscope of impressions
toast and ginger marmalade
breakfast in bed (and lunch too!)
aspidistra silver service salads
fresh laughter and applause
for Sweet Charity's rhythm of life
locked fingers, caressing hands
glances across the coffee cups
desires promised in the eyes
forward pressures of the thighs
the soft entry with all the tenderness
and passion at my command
seeking to touch you deeply
to exorcise our mutual ghosts
this lush love of summer soothes me
the heart sets down roots
nourished in unexpected calm
happiness flows unconstrained
we sleep peacefully together
orange blue golden bright
striving to fly the heavens
the imagination and flair
of its delicate graceful petals
are cusped in a strong head
that fights and teases the wind
is earthed in bushy profusion
to tough roots of reality
petals head stem bush roots
are the bird of paradise in my life
and I love you.
I had sadly thought
from the edge of my appetites
senses return newly honed
surprise me in their freshness
and Kupe's crossing place
ferries back my nascent spirit
- sitting on the wharfside
as an egalitarian kiwi joker
rescues an embarrassed Mercedes Benz
- lying in the grass above Opito Bay
gently stroking your browning breasts
watching a lazy gannet feeding
- wading in Egan Park's idyllic mountain stream
a dusky maiden in the fern-clad pool
fulfilling South Pacific fantasies
of Fletcher Christian and his Isabella
paradise lost and paradise regained
and a world given up for love
- rich memories stored camel like
for sustenance on a desert trip
of lolling and loving and nighttime frolics
of Skaya and Coffee shop and eccentric service
"What was it you were after now?"
the luscious laziness of a couched pizza
washed by a McWilliams Cabernet Sauvignon
and me the chatterbox for a change
childhood reminiscences of school and family
of Whenuakite holidays in now tumbledown shacks
and putt'n'stuff and boggling
you give me passion again
I like to think I love the you you are
Rather than some romantic image of the mind
And so I try to catch your world
To comprehend its choreography.
some patterned, some broken
As you strive to dance your own dance
And shuck off psychic servitudes.
I see past loves' pas de deux
The intimacies and joys of motherhood
The countervailing tugs of love and discipline
As Josie chomps crackers in the lounge
"I love you, Mummy, I love you"
The personal touches for your Belmont home
And new spaces for you to grow within.
I see the devil and the three of swords
[i]
The detached obeisance to sensuality
As you seek more confidence
A secure expressiveness in your own body
Yet fearing wantonness, faithlessness,
And I sense the need for reassurance
Knowing how hard it is to match
The magic dances of the mind
On the studio's unforgiving boards.
Yes, I love the you you are
I love the gleeful naked child of Egan's emerald pool
The sure-footed skimpy-skirted softball slugger
The pink-bereted red-blooded lunchtime chatterer
I love your New Orient dinner-dance sophisticated elegance
And the sweaty foot-sore King Creole rock-and-roll raver
I love bedridden Sunday sermons and hymns of praise
The bespectacled intellectual lady with her strings of As
I love the talking the sharing the closeness the cuddles
I love the hours and hours of loving loving ways
And I love the you that knucklebones upon the floor.
Knowing what it is to be alone
DREAM DAYS


Were there days that week
Was there darkness and daylight
Did Monday end and Tuesday begin?
Unfettered by sleep or time.
A week of Chez Marius' garlic prawns
Of strawberries and kippers for breakfast
Watched by Big Bird and 8 a.m. Sesame Street
Duckling on the trolley for dinner
And a succulent full-blooded sweet-kissing Jean Patou for dessert.
Sunglassed, sunhatted, sunhearted,
We bus to Doyle's beachfront splendours,
Squid, crab, mussels, Seaview Moselle
And swim, shark protected, in Watson's Bay.
Fried oysters at Attilio's deserted Bistro Cellar
The hysterical Mr. Bo Jangles
The fears, forebodings and joys
Boutique browsers of Double Bay
(Fifteen dollars for a pair of pants?)
Voyeurs of Kings Cross porn
Apartment viewing, harbour cruising,
Washed by Manly's surf and the clattering hail of a Sydney storm.
Walt Whitman singing the body electric**
A strange bedfellow with Rod McKuen
Iolanthe's
gumboot fairies***
Wonderwoman's
rubber boobs****
And the sweet bitterness of Mr Harry's forbidden apple.
Our chattering and silent delight of each other
The ever-changing kaleidoscope of roses
The magic, ecstasy, calm and joy of our love
Lying beneath Hyde Park's trees, singing songs
Kissing by the sparkle of the fountains
Dancers of the glittering musical arcades
Late night dreamers of the streets
While the taxis scurry by
With other bedbound lovers.
[*There

are a number of references to Tarot cards in the poems. The Sydney reading referred to here warned of the failure of plans. **The reference is to Walt Whitman's poem I Sing the Body Electric. ***Iolanthe at the Sydney Opera House. **** Comedian Reg Livermore's one-man show Wonderwoman.]
TUTUKAKA
Poor Knights Islands Marine Reserve, Tutukaka Coast
Love the immense peace of the place
Love the pohutukawa on the cliff
Love the tuis sucking nectar from the flowering flax
Love our Whale Bay walk and seashore frolics.
Love swimming for lost sinkers
Love your fishing, rain or shine.
Love your sickly Poor Knights
(Well, not all the time!)
Love your rock cod and hapuka
Love eating them, washed with wine.
Love your eight ball strike
Love your spa pool bubbles
Love your showered perfume
Love the gannets evening plummet.
Love you clambering up and down my rocks
Love pitching and rolling on your five foot swell
Love tossing head-over-heels in Langs Beach surf
Love the oiled caress of your sunscreen hands.
So let's Tutukaka some more.
EAST CAPE


With a hundred seats to fill?
This is The Heads, Whakatane
Dinnerless we drive over the hill
To Ohope Beach in search of a meal
But the Sea-Shell has no fish
After all, sir, it's after eight
Welcome to the Bay of Plenty.
But there are other feasts in store
The pounding surf of Waiotahe
White
Island
's sulphurous steams
A rain-trek down to Horseshoe Bay
As Hikurangi hides in mist and cloud
There's the tapu tree at Te Araroa
Picnics beneath the pohutukawas
There's "Trev and Trev, Builders"
The driftwood of Tolaga Bay
The hot passions and cool streams
And the tranquillity of a lemon sunset
Lighting the wrinkles on Young Nick's Head
Welcome to Poverty Bay and its whispering sands.
where the familiar comfort
you gorgeous sleepy woman
with my poems and my love
will wipe the sleep from your eyes
the pine needles the pohutukawas
on the seashores the cliff tops
will rouse your soul daily
and we will dance on rainbows
POP LYRIC
The pearls from the swine
The pits from the cherries
I'll love you still
[*Reference is to Ronald Reagan, US President 1981-1989]
Below the peace and tranquillity
With persistent gentleness
And when Taupo and Tauhara
2
The three of swords represents the active destruction of an affectionate relationship plus the self-justification of the suffering that separation imposes on others.
such little things kill love
In Anticipation of Redundant Love



Now my body that gave so gladly
the wind through the hallways of Hale Manoa
distant shouts of Rainbow supporters
Rhapsody in Blue practised on a far-off piano
Passion is distanced, emotion dulled.
lest the cruel nearness of your nextdoor voice
belying oceans of distance
a hemispheric separateness
whispering unconsummatable intimacies
remind me of past pleasures
of friends' café laughter
and long despairing tearful farewells.
that ran so freely through your hair
lovingly traced your eyebrows, nose, lips
stroked your shoulders, hands, breasts, thighs
proud and patient parents to your first orgasms
lie quietly on the desk top
and listlessly push a pen.
that lit at the sight of you
of Honolulu's night-time panorama
and gaze dully at Diamond Head
hiding behind sunglass shades
dreaming of a diamond with a deeper cut.
Now my redundant lips engorge no more
and my cunnilingual cunt-contented tongue
and postage stamps for Uncle Sam.
when we meet again
when we meet again
let it not be as strangers
on the intimacies of friendship
fearing to scratch emotional surfaces
lest old scars are revealed
nor spontaneity be lost -
and resonances of the past
friendship, love, intimacy
of the brush strokes
CALL YOU FOR LUNCH*
Yes, such a crowded life.
I prised a corner my love
Across the flickers and flares of earlier loves.
Within a limited contract
---
*
Original idea from the poem 'The Crowded Life' by Lois Wyse
.
such little things kill love
such little things kill love
modulating indifference
THE THREAD
lying in your arms
the wild dogs in the cellar
harbouring sportive monsters
in the bottom of my sea.
A GOLDEN SADNESS
can so much
did you not entertain me to dinner
bread enough and wine enough
and corkscrew riddles to be cracked
did I feed you speeches alone
and long silences searching wisdom
the world was mended then
just for a fleeting moment
touching me inwardly with caressing hands
my soul stretched out for trampling
drinking a drop of happiness
yet eager for war and festivals
she has still my strange soul
earthed with the softest of threads
tired of long voyages and uncertain seas
having tasted too much that is good
in a golden sadness.
OYSTER SONG
have you stuffed your ears with rabbit's fur
lest you hear words that waken you
bruising itself on stony boundaries
am I scribbling graffiti on tables and walls
in an indecipherable moonman's script
that you so fear each step it takes
much that is inside is like an oyster
floating slippery and hard to grasp
yet oysters harbour growing pearls
though the shells may pinch your fingers
if you pry and pluck before they're ripe
of all the treasures it is our own
that we dig at last from the sheeny husk
so I will still sing my song
from the peace of my still house
and must sing it for my own ears
until my throat is made mellow
my hands talk and my feet dance
and I can awaken your heart
from its shrewd protective blindness
to fly with mine again.
IN ANTICIPATION OF REDUNDANT LOVE
Come on now crab
You climbed a giddy height
From the safety of your shoreline pools
Walked the edge of the precipice
Head, heart, guts and groin
The time for retreat is near
From cliff top to rocks below
Your shell is not that hard
And blood and guts enough have been spilt
Survival modes in lunar modules
And shorelines are fine places
Lest your claws tear what you most love
Pluck up your heartroots tenderly
Protect them with your shell
You will need them again.
GUY FAWKES' NIGHT
In the storms of the night
Lightning bolts blood my eyes
Illuminating the lashing rain
That sweeps the landscape of my troubled mind.
Illusion's fragile dam will burst
Freeing the army of wicked dwarfs
Beyond the conversations we dared not have.
And you should fear it too
My
devil and
my
three of swords
Lest in the howling pains of rage
And stings and stings and stings us both
To cold oblivion.
THE SCORPION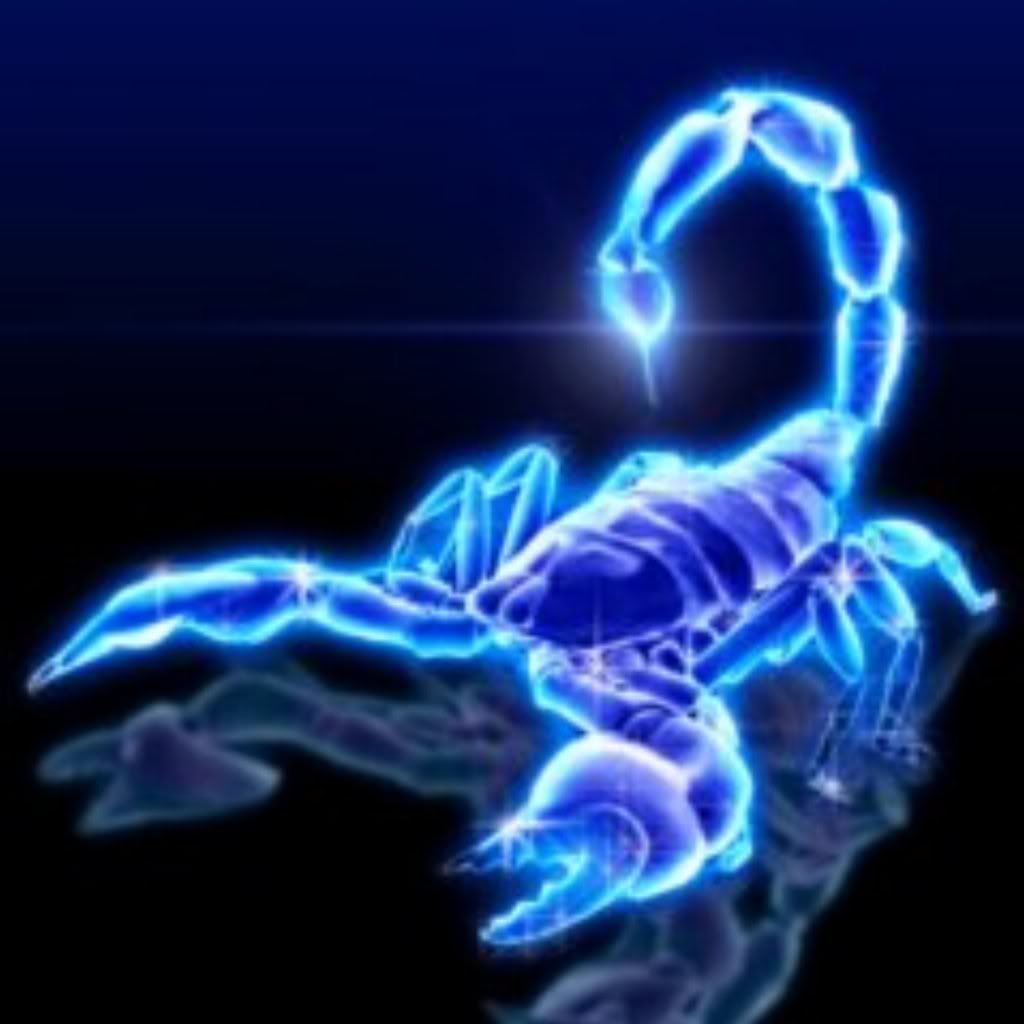 walled in flames
his passion for life shrivelling in the heat of treachery and betrayal
the proud-backed scorpion
heavenly conqueror of the vain Orion
smoke-gutted, heart-burned, hollowed-out by pain
with no avenues of retreat
except to self-destruction
in one last despairing act
a final choice, a leap for freedom
plunges his poisonous tail into his poisoned heart
like Phoenix keening on the funeral pyre
he must kill himself to preserve himself
email
wiped your email
with a click of the mouse
to trash you from my heart
POSTSCRIPT
When you remember me
(As I trust you will, as I know you will)
Forgiving of my frailties
I hope there will be some joy there
In the memories of what we were
What we had of love, romance, passion, friendship
As I too remember all the good things
To blot out the sad bad ending of it all
The fears of life without you
Perhaps too much for both our goods
I would not have wished it other
("Lov'd not wisely but too well")
Like a baptism of life, of love
A rebirth in the fresh deep pool of passion
That stripped off pretence and reserve
Below the surface of myself
Another self I'm proud to call my own
(greedy for life, greedy for love)
That will forever bind me
In fond and bitter memories
Of a happiness unlike any other I have known
Yet would wish to know again.
REQUIEM
then there was silence
melodramatic and fanciful
full of unanswered accusations
memories of her assassin's eyes
finally and forever.
CATECHISM
now the lovelocks are broken
and we taste the bitterness
for even the best of loves
nor throw pearls of great price
on the rubbish pile of pain
treat what we most valued
be chained by past memories
paralysed by future fears
with all our souls' burdens
all our souls' secrets.
LUNAR MODULES
vengeful cats
set among emotional pigeons
in lunar modules
FACE TO FACE
Face to face
With the anaesthetising society
Why fear to shout and scream
When there is joy or grief within
There's time enough for that
Rather than the prevailing dullness
Lonely clamberings to achievement's pinnacled despair
Night sea swimmings to the sirens of success.
Kiss?
WHEN THE SHADOW CALLS
When the shadow calls
Remember the magic moments
The abortive hot pool frolics
The joyful abandon of Bastion Point
On a moonlit summer night.
Beneath Long Bay's rocking firs
The dark threat of thunder
Beyond Pakatoa's rainbow sunset
Above Te Kotuku's surging wash.
Remember a tender rib-eye fillet
And remind yourself in your remembering
That the shadow will pass
We will dance through the dawn.
so we drank
so we drank
the last bottle of claret
a last bottle of claret.
COLD FEET
Dead, visibly dying
On the void of time
But keep the toes warm
So that death cannot enter there
From the bottom of the bed
And drain me out
Through cold feet.
Must I die so
Must I die so
Stranded by my body
Move my leg, move my leg
Before I crap myself again
Move my arm, move my hand
Move my hand, hold my head
Hold my head, hold my head.
a rotten trick
a rotten trick
where are you
now
just when.
TITOKI
I planted two trees
Struggled for a year or two
Were to me.
MEMORABILIA
Fragments of lyrics and melodies
Packed in a cardboard box
A ribboned cluster of cards
As though a spirit so free
Confined to the photo album
Catalogued and classified
Rather am I reminded of you
In the curves of the land
The sequoias' gentle sway
The flickering city lights
And hold your heart alive
In the Sugar Mountain air.
3

Contents
Nietzsche, Teacher of the Eternal Recurrence
Laughing Lions Must Come!
In Avoidance of Married Women
Fingers Touch
Regeneration
Somedays
Why do I love you
NIETZSCHE, TEACHER OF THE ETERNAL RECURRENCE
everything dies and blossoms again
everything breaks and is joined anew
everything parts and greets afresh
in every now being begins
I am the guardian of memories
the night watchman of love
keeping faith with the past
to brave the winter's chill
and the angelic grimaces of life
and on the return of spring
breathing the odour of dusty eternities
but the tree will blossom again
to laugh in the summer sun
LAUGHING LIONS MUST COME!
sometime crooked and misshapen
wicked dwarfs crouching on my tongue
forged in the smithy of life
hammered right and straight
perpendicular in body and soul
broken from the cast of solitude
ready for the roll of the drums
a warrior fit for the war
unshouldering past burdens
done with cries of distress
abandoning inexorable silences
facing forceful questions
the strong will of love
makes dim eyes bright
and spirits sportive
the laughing lions are loose
and I can be
the man I am
LITTLE FINGERS
trying the temperature of the water
with little fingers
does not commit
to a Cook Strait swim
but it may encourage
a refreshing and joyful plunge
in a still sunlit cove
FRESH SONGS
brushing off dust and debris
and the spiders of despair
breaking through twilight shadows
I stand naked before the sun
curing my soul with fresh songs
crowded and pressed by happiness
drinking strong wines of wisdom
back on the path that has heart
singing till the seas are silenced
whether you listen or not I will sing
it is such a beautiful folly
IN AVOIDANCE OF MARRIED WOMEN
we are not islands you or I
we do not come like
Last Tango*
without histories, the resonances of relationships
without obligations, responsibilities
self-images and self-respects
the internalised expectations of others
no matter how hard we may wish
we are our pasts and our futures too
if it were just you and I
we would be free, adrift,
happy perhaps for a while
discovering ourselves alone
but our contract is limited
by time, by place, by circumstance
how can we be free when so constrained
when spontaneity is touched by dread and fear
and secrecy feeds on guilt and guilt on secrecy
I have little stomach for such 'affairs'
and fear their consequences
"How do we live tomorrow?"
must colour how we live today
fearful of the sterility of the passionless
yet fearing to say I love you
the abstract desire
be particularised here in you
[*Reference to the movie Last Tango in Paris]
AHIPARA
Trading devalued currency?
My love no better than pulp romance
A grain of sand blown in the wind?
As bird flight, fish swim;
To manoevre my advantage?
Or can I live the thought
To face the inrushing tide of consequence
Or is it that I do not love you?
But what I feel I feel I think
Yet fear to speak my mind,
Tittle-tattle in embarrassed silence?
Or is that too to remain unseen
Locked on the ocean floor?
I see you through the window window
My spirit searches out, seeks out,
In the same house, untouching
Repressing the feeling to the page
Trading in trivia, the price of honey,
Is the knowledge not sufficient
Why then possess, devour?
Or is freedom only for captives?
THAT WORD LOVE
Have prolonged those moments
where the views are clear
cast from the mountaintop
(what does not destroy me
contain powers that heal)
soft-treading lions are loose
better the follies of the mountaintop
FINGERS TOUCH
the merest crumbs of time
feverishly grasped in fear of returning famine
as if the taste were transient
a springtime bloom presaging no summer sun
(before blowing out his brains)*
does not summer follow spring
uncluttered by fancy's fears
does not the bell-flower cherry
after naked blooms die away
to nurture new season's growth
scavenging scraps of womanfood
subsisting on frugal fare
inside the bubble of love
by dragons breathing fire
will burst the magic moment
no words speak
[*I don't know where I picked up that idea; Camus died in a car crash in 1960. **
My star sign is Cancer and I was born in the Chinese Year of the Dragon.]
the sweet warmth of your lips
and bring me back to myself
somedays I feel a pain so deep
a drowning despair, a watery sadness
the deadening beat of rock
the social chatter of partying friends
work's partial concentrations
and tennis balls struck in anger
the most elemental sensations
within the compass of sea and sand
my floating body washed by the waves
within the compass of our mutual joy
ADRIFT ON POETRY


Contents
Deep Fish
Cats' Comforts
Waikato Breakfast
Nous Sommes du Soleil
Black Holes
Summer Evening, January 1985
Greece
1998
Reflections
A Birthday Dragon
"She Fumed… He Froze"
The Tennis Racquet
Sophie's Fan
Adrift, Golden Bay
A Waiting Day
Gestures from the Heart
The Birth of Love
Deep fish
Live deep deep down
And you can only catch them
By chance
Or by knowing where to fish
The point at which
To break the ice
Or cast the line.

It's cold deep down
And dark too
But safe from predators
And their fishing hooks
Yet just now and then
I am tempted up
To smell the fear
And breathe the air
Where the sunlight is.
CATS' COMFORTS
Were we those people too
The people of our past
Were those the things we did
The clothes we wore
The jokes we laughed at
The dreams we dreamed
Were we the rush-hour crowd
The business-suited
City-polluted commuters
Standing clear of the doors
Deafened by the shrill whistle
For the departing suburban train.
Did we give up all that
For the quiet life
For a view of the stars at night
For the smell of the sea
The wind in the face
Cats' comforts.
WAIKATO BREAKFAST
The cleansing dawn
Derides despair
Food is optimism
I feel a song of
Cornflakes and peaches
Double egg bacon and tomatoes
Toast and honey
Coffee with cream
And sunlight emerging
From the Waikato mist
NOUS SOMMES DU SOLEIL*
As I step into the sun
I feel as fragile as a newborn child
I cross the road with care
Yet beneath the screening trees
Still I know
The quiet despair
The unshed tear.
[The title of a song from one of my favourite albums in the early seventies, Tales from Topographic Oceans (1973) by Rick Wakeman's group Yes]
BLACK HOLES
I've seen the barren lands
The lands beyond hope
Searched the black holes within
And found
No colourful kaleidoscope
Only a flat and dreary plain
Of wasted years
Of pointless pain
And the merrygoround again.
SUMMER EVENING, JANUARY 1985
In slippers and walk shorts
gazes emptily out the kitchen window
the clock ticks toward eight
the parsley sauce hardens
from the corner of the lounge
Barmaid Bette glows in silent conversation
her Lancashire Christmas revelry
incongruous in this summer heat
the ginger of the four cats
licks languorously at its Jellymeat
momentarily I stand aside
from How to Save Your Life's little aphorisms
- Jealousy is all the fun you think they had –
to contemplate a stopped life
the still frustration of another's world
GREECE
1998
sons and daughters of Apollo and Aphrodite
from two thousand years of conquest
to be made taxi drivers and surly desk clerks
reluctant votaries of the great god tourism
REFLECTIONS
At Christmas we rummage through the family photos
Tunnelling back to laugh at images of ourselves in earlier times
("Mum, how could you make me wear that dress?")
Each with our different memories, stories, perceptions
Of the past as we think it was or would like it to have been
And, as we turn the weathered leaves of old albums,
Watch ourselves grow, age, mature (would it were so!)
We reflect on who we were, who we are, and who we will become.
A BIRTHDAY DRAGON
Did you know that some dragons
Both of the watery and metallic kind
Like to live on glass bubbles
Indeed they thrive on them
Such dragons are the very preciousest
Of all the dragon species
For they have the world below them
They can be fiery and ferocious
Their spikes both sharp and brittle
These delicate fragile creatures
Are a source of fun and joy
Full of intimate mysteries
So here is a birthday dragon
Crafted with all the love and care
Fashioned in fiery flames
Crafted with all the love and care
That on our beautiful bubble
In the dawning hour they called to me
Spoke to me of the landscapes of love
Of consuming fires and frozen wastes
[Overnight in Rotorua after the opening of the Gill Gatfield exhibition
Moving
Mountains
, 13th April 2002]
You were a stranger to my early years, and
As I walked with Mum and Liz to greet the bus
Your return from war-torn Africa long delayed
I presumed you'd be a black man with frizzy hair.*
I carried your tennis racquet proudly home
Although it was almost as big as I
Peered in shy silence at this sickly man
Hot poultices slapped to back and chest
Nursed lovingly in my mother's bed.**
Was it a tennis racquet moulded us
Confined intimacy to sports and games
Masking a crevasse we could not span?
Yet I've carried you close throughout my life
Minted my character through opposition
My image the obverse to your stamp.***
A good man my Dad, saintly in many ways
But stumbling fatherhood his bequest to me
And a battered racquet in a wooden press.
[*I was a month short of three years old when I first saw my father in May 1943. My mother, big sister Elizabeth and I walked down from Mount Stuart, our rented cottage in Glen Devon, to the Yetts o' Muckhart to meet him off the bus from Glasgow. In those childhood days of confident empire we played with golliwogs and collected labels from Robinson's Marmalade to exchange for badges of that company's golliwog mascot. Throughout her life my English grandmother spoke scathingly of 'the blacks'. In my teens, I boldly, if despairingly, tried to correct her. "Not blacks," I would say, "Negroes, granny, they're Negroes." By the sixties, Negro was no longer the politically correct nomenclature and 'Black is Beautiful' blossomed. Now Afro-American and Afro-Caribbean hold sway, though rumour has it that black is due for a rerun.]
[**My father contracted cerebral malaria in the Sudan, a British colony invaded by axis forces, and eventually made his way back to Scotland via South Africa. Weaning him from his quinine dependency precipitated a massive resurgence of malaria with rigors and 105-degree temperatures. Many times a day my mother, a trained nurse, would boil up a grey mess of clay, spread it onto squares of cloth, and rush into the bedroom to slap it on my father's back and chest before it cooled. I presume it was to draw out the sweating from his fever. After a few weeks Elizabeth and I were packed off to my grandparents in Edinburgh while he recovered.]
[***The ancient stamp or die used to impress an image on the face of a coin was called a 'charakter' and analogies between coin, character and appearance are long-standing: e.g. 'two-faced'. See Lynch, Deidre, 1998, The Economy of Character: Novels, Market Culture and the Business of Inner Meaning, Chicago, University of Chicago Press.]
SOPHIE'S FAN


What brought us together across the dramas of our lives
Remains random and mysterious
Lost in the mist of past journeyings.
Now, as companions in age,
Though our frailties make us tetchy,
We must cherish each other the more
Set aside tantrums over trivia, childish irritabilities,
That drain our emotions, exhaust our spirits,
For in such displays we hurt only ourselves
And if one is sick we are both the losers.
So cast off the anger and bitterness
They can but consume us both,
Forgo competitive striving against relatives, friends,
Set the children free to manage their own destinies.
As we face together, with equal composure,
Life's sweet seductions and bitter grimaces
Even the gods will envy our ageless harmony.
[For background to this poem, see blog 14, 3rd December 2011]
ADRIFT, GOLDEN BAY, 20th January 2010
cut adrift, floating free
untethered from time's untimely schedules and the anchors of duty,
succumb to nature's tempos,
it's times and tides, eddies and currents,
it's vagabond winds and freshening breezes for mind and soul,
bask serene in the moment, the present,
no past, no future
a piece of flotsam washed by the sea of life
store those magic moments, short in time, long in memory,
cherish the hyper-reality of those Golden Bay days
before reberthing your life again
cut adrift, float free
A Waiting Day
It was a waiting day
I sat by the seashore
Keeping watch with a grey heron
Silent sentinel of the black rocks
On the sand a seagull with a limp
Scavenging picnic leftovers
Out at sea Louis Vuitton yachts
Stalled and calm, their listless crews
Waiting for that vagabond wind

It was a waiting day
Sunny and still
I walked barefoot on the beach
Feeling the freedom of the first sands of summer beneath my toes
Paddled along the water's edge
Socks and cell phone tucked into the shoes hanging round my neck
Waiting for news of you

You came at the twilight
Of a waiting day
Cradled to your mother's breast
Rocked gently in your father's arms
Swaddled by family
Joy, love, euphoria and relief
At your safe delivery
And a breathless waiting world
Was released to life and laughter
[Birth of James, 10th October 2002]




GESTURES FROM THE HEART



there are times
soul-bleeding times
for simple healing
gestures from the heart

the innocence of a child
the smile of a loved one
unexpected gifts of friendship

Sophie's Fan
shyly given to the Honourable Mr John
a home-made Valentine's card
"Just so you know you're appreciated in this life"
a piece of pumice from Lake Taupo's shore
"When Taupo and Tauhara are no more then let my love die"
one, wrapped in tissue,
a piece of rose quartz
sprinkled with gold and silver stars
a keepsake for the years
and a message inscribed:
Rose Quartz
gentle and soothing
good for fears
aches and pains
and healing broken hearts
(Failing that, it is a pretty slab of rock to stick on your desk)
the other
New Zealand Alpine schist
brought from the Mackinnon Pass
a track beyond my capability
reminder of what might have been
in old friendships rekindled
THE BIRTH OF LOVE
There's no trace now of St John the Evangelist Kilburn, not even a google image
No youth club for ping pong and petting games in the dingy crypt
No corner pub with a Sallies' band and kids loitering at the bar door
Just a new housing development and spruced up tube station.
T
he obliteration of place doesn't erase memories of it
And one in particular shines through the cold night of a 1950s winter
Where, in the murky streetlight of a December night,
Coddled in woolly hats, scarves, gloves, heavy overcoats,
Our choir of carol singers,
Stamping our feet between the songs to warm our toes,
Brings the Christmas message to diffident onlookers.
Within that choir you and I
In the innocence of our scarcely teenage years
Our ice breaths mingling in the still air
Contrive to share a songbook in the candlelight
And, as our heads draw close to read the words we know by heart,
Strands of golden hair caress my face.
I see your shy gentle smile and breathe you in
To jump-start my heart with the first stirrings of love.
Dr GACHET'S BLUE EYES*: A NON-POEM FOR SHARON
[c. 4am, Ward 73, Auckland Hospital, Tuesday 30th October 2012]
I have things to say to you
things that need said
but I have come to distrust words
especially words masquerading in the self-proclaiming cleverness of crafty love poems
full of grand promises and magic visions of forever loving lives.
Paying verbal public tributes
to departing colleagues
staff at celebratory functions
brides and bridesmaids
the dear departed of family or friends
these are things I have been reluctant to do
fearful that life and lives be trivialised
by the artifice of grandIiose expressions and oratorical gymnastics.
Life is hard for us now
behind our brave faces for public consumption
we cry together
and we cry apart
and only our love sustains us
love that doesn't need poems
nice to cherish as they may be
but is woven into the fabric of our daily lives.
I see your love in your Dr Gachet eyes
as they swing between pain and laughter
in your

creation and care of our new

home
in meatloaves,
fruitcakes and Sunday morning pancakes
I see it in your tears of frustration and exhaustion
in the selfless caring
and I feel it in touching hands, stroking fingers and hugs of compassion and comfort.
I offer you my non-poem in love and gratitude.
[* Dr Paul Gachet took care of Van Gogh during the final months of Van Gogh's life. Van Gogh wrote of his depiction of Dr Gauchet as 'sad but gentle, yet clear and intelligent.' Critics have highlighted 'the tired, pale features and transparent blue eyes that reflect the compassion and melancholy of the man.' We saw Dr Gachet in the Musee d'Orsay.]

When I am done and gone

1. I do not care to age like this
I do not care to age like this
Frail and tremulous
But a shadow of the man I was
My body a burden to myself
Myself a burden to my love
As she bravely puts her life on pause
To resurrect when I am gone.
2. The Lemon Tree
Marooned in lazy-boy corner
Stirring from drifting memories of days gone by
I see you on the deck potting out a lemon tree
And
Time-travelled to another world
I catch a snapshot of your life
As it will be when I am gone.
________________________________________________________________________
Found this doggerel among pieces for creative writing workshop.


Someone shot the muse today
And I can't find a thing to say
Not a thought inside my head
That bloody muse has gone quite dead
On days like this I wonder why
I should make another try
To find the words that never age
And set them down upon the page
There must be better things to do
Than get myself in such a stew
In black and white or pen and ink
Over my inability to think
Beyond the boundaries of my bed
Perhaps I should get up instead.
____________________________________________________